How to evaluate your free trial of Snitch porn detection software
Installation
Snitch software is offered in free trial form, so that you may evaluate the unique features of the program without obligation, for 30 days. NO deposit, no account, no credit card details need be supplied, the trial software can be downloaded at no cost, any time, by anybody. To download your free trial, click here, then follow these instructions:
Right-click on the file you want to download, and choose 'Save Link As' or "Save Target As" (depending on your browser).
Choose a location that you will remember, such as your Desktop, then click OK to save the file.
When the file has finished downloading, start Windows Explorer and navigate to the location you saved the file to.
Double click on the downloaded file to begin installation, then follow the instructions to complete installation.
If you have any difficulties installing, check here for solutions.
Configuration
After installation is complete, start the software by selecting the Snitch icon in the Start menu. Note that at any time you can press the F1 function key to open the software's inbuilt help file.
On the main window there are two main panels, Search and Custom Search. The Search panel lets you choose a search path that the software will scan. Once you have selected a suitable search path, pressing the search now button will start Snitch scanning the selected path(s).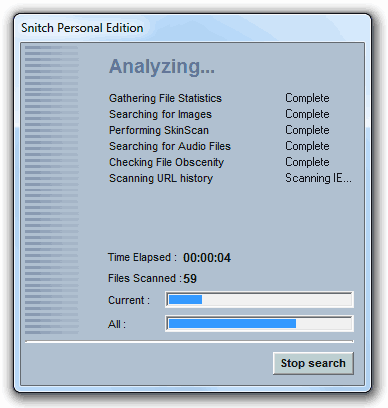 Alternatively you can perform a custom search. The custom search panel contains a single button that opens a new window and allows you to choose one of four preconfigured search types. By selecting one of these preset types, all options are automatically configured with default settings for that search type. Each of the four preset search types permits varying tradeoffs between scan speed and thoroughness.
If you want to manually configure options, press the configure button on the main window. This will open the options configuration menu that will allow you to customize the options however you want them to be. After setting options as required, they will remain set for any future scans you perform.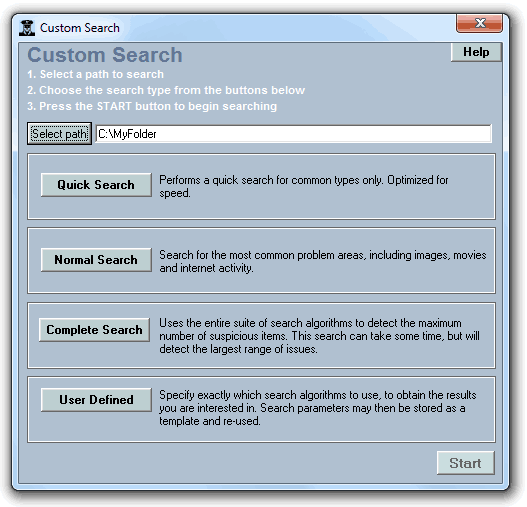 Viewing results
While Snitch is performing its scan, various statistics about the types of files that have been detected, will appear. The current file being scanned will be shown, along with a running count of the current category progress.
Once the scan has completed, the results window will allow you to browse your results.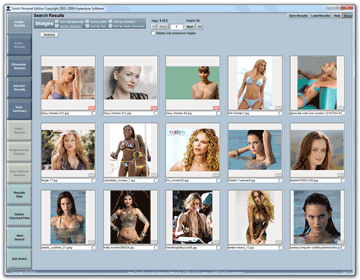 Initially they will be sorted in order of suspicion, but you may choose the sort order and other parameters. A set of buttons can be found down the left side of the page that let you select the various file categories for review. Files can be deleted, moved etc. If you have any questions at any time you can find information to assist you in the software's built in help file (by pressing F1) or you can contact technical support personnel here if you still have questions.
How to remove any pornographic material from your home computer.

Setting up Snitch computer cleaner software

Porn Detection vs Pokemon style porn how Snitch handles them

How to get rid of porno with Snitch removal software and increase PC performance

Snitch Porn Remover - How To Get Started With Your Free Trial


Download a free trial of Snitch HERE or Click HERE to buy Snitch