How to remove unwanted internet history data with Snitch Plus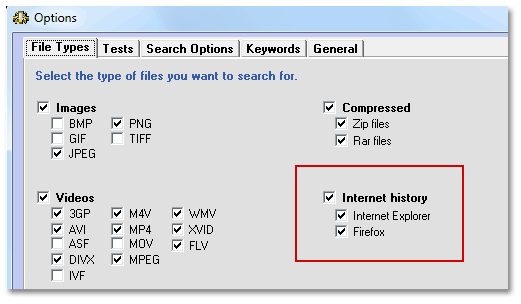 Snitch and Snitch Plus porn detection and removal products are designed to help cleanup inappropriate material from your computer quickly and easily. One of the key reasons users prefer Snitch products is that they make it easy to clean up internet browser history, and remove history data left behind after visiting adult or pornographic websites. This is a quick tutorial to show how easy it is to set up for this process in Snitch Plus.
Firstly on the initial window press the Configure button. This will bring up the options dialog. The first tab File Types lets you choose what to look for during scans. For the purposes of testing for inappropriate internet usage history, we need to ensure that the main Internet History category is checked, and both browser types are checked, so history from either browser will be detected.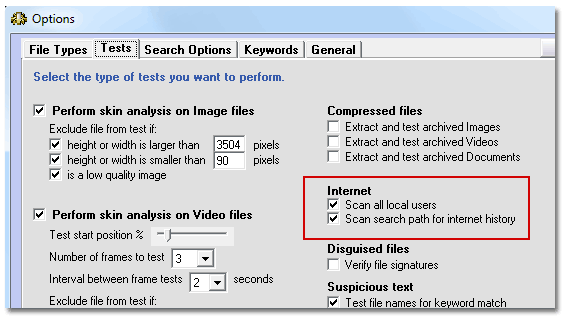 Next on the Tests tab, we need to look at two options. The first 'Scan all local users' will look for internet history browser caches in all user profiles. This should be checked on. The second option 'Scan search path for internet history' tells Snitch Plus to look for internet history cache files in the search path that you have selected on the main window in the Search Path box. It is recommended for both of these options to be checked for maximum coverage.
Thirdly you should select the keyphrase groups that you would like to test for during your cleanup. There are several groups of keyphrases in categories, that can be enabled and disabled as required. The software comes preconfigured with these keyphrases, but you can also enter your own if necessary. You can select as many of these groups as you need. When Snitch Plus scans and cleans the internet history data, it will check for the presence of the keywords and phrases from the categories you have selected.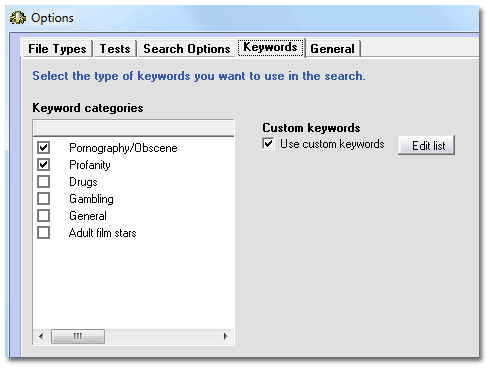 Note also the Custom Keywords section. If you need to add your own keywords or phrases, or you need to reset the suspicion rating for a keyphrase that is already in the keyphrase list, press the Edit List button. This will bring up a window that will let you add your own keywords and assign them a category, as well as set a suspicion rating. You can also set matching rules that define how the keyphrase should be located around other words and characters. Here are a few examples of how to use this:
Whitespace Rules
<keyword> - Ignore pre and post whitespace characters.
_keyword - Must have a whitespace character immediately before keyword.
keyword_ - Must have a whitespace character immediately after keyword.
_keyword_ - Must have a whitespace character both before and after keyword.
Note: If no rule is applied then the default whitespace rule is used (eg: Must have a whitespace character either before or after keyword).

Examples:
<pot> - matches pot, spotty, pottery, potato etc...
_pot - matches pot, pottery but not spotty
pot_ - matches pot, spot but not pottery or spotty
_pot_- matches pot only (ie. must be a word on its own)

Compare Operators
? - Any single character is allowed in this position
# - Any single digit (0–9) is allowed
[character list] - Any single character in character list is allowed in this position
[!character list] - Any single character not in character list is allowed in this position

After you have configured the internet history settings as shown here, run the scan and wait for your results to appear. Any internet results, references to adult files and websites containing inappropriate keyphrases that match your settings will be shown in 'Internet Results' when the scan has completed.
There are a range of other detection algorithms in Snitch that will scan for and locate various unwanted porn-related files, to help make your hard drive cleaner. For more information , click here.
Download a free trial of Snitch HERE or Click HERE to buy Snitch