Snitch will help you clean that filthy stuff off your PC now!
Is your computer chock full of adult pornography, sexual imagery and other offensive or obscene files? Have your spouse or your teens crammed your hard disk so full of adult material that your computer's performance has ground to a slow crawl? Have their pornography surfing habits introduced malware onto your system that spies on you, records your activity, collects your private login data or tracks your every move? Maybe it's time to get rid of it...
YES! So what do I do about it?
Snitch is designed to check for and remove adult pornography in all of it's forms, interactively. Images, movies, internet history, hidden files, renamed files, files with suspicious file names, compressed files, cookies, etc. all this and more can be detected and deleted in Snitch with just a few keystrokes. Snitch makes the job of finding all the adult pornography on your drive easy, it can scan a wide variety of adult file formats and show you what has really been going on on your computer!
How does it clean up all this adult pornography?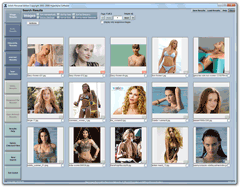 Snitch uses special techniques to detect adult porn. It analyzes image and video content for the presence of nudity and sexual activity, which saves you the time and effort of trying to locate it yourself, or paying a forensic expert to do it on your behalf.
It can also detect many forms of hidden porn that you would otherwise never find. Once the suspect adult material has been found, Snitch will help you go through it and get rid of anything you don't want. Any material you choose for deletion will be removed, and Snitch Plus can even perform forensic deletion, adding an extra level of protection.
A discussion of the legal ramifications of detecting illegal porn during a porn scan.
Reasons that cleaning up porn with Snitch should be a regular routine on the home computer.
Porn Detection vs Pokemon style porn files - a case study
How to remove any porn files that have been stored or otherwise accumulated on your PC.

Some Related terms: Hard drive clean up , PC Cleaner , Internet Cleaner , Hard Drive Cleaner , Porn Eraser , Clean Computer , Erasing Hard Drives , Clean Hard Disk , Adult Pornography , Deleting Internet History , Deleting Files , Adult Content , Cleanup Computer, Cleanup Disk , Remove Adult Content , Porn Scanner , Clean Your Computer , Search Hard Drives , Clean Drives , Clean Disk , System Cleaner , History Cleaner , Disk Cleaner , Cleaning Hard Drive , Porn Scan, Cleanup Disk, Drive Cleaner, Computer clean up , Cleanup , Disk cleanup , Content cleanup , Computer cleaner , Disk Cleaner , Internet Cleaner , Hard drive cleaner , Cookie Cleaner , PC Cleaner , Erase Internet History, Internet Cleanup , Internet History Eraser, Remove Porn , Delete Porn , Remove Pornography , Delete Pornography, Parental Controls , Parental Control Software